Best Things to Know About Western Red Cedar Fences
Western Red Cedar Fence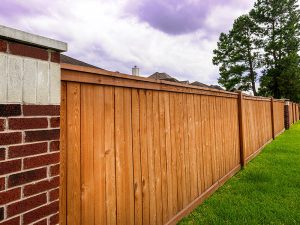 Western Red Cedar- not to be confused with California Redwood- is a versatile, attractive type of wood that's abundant on the west coast of North America. Western Red Cedar lumber has been used for centuries to build tools, homes, and even whaling canoes. Texas Fence prefers using Western Red Cedar as pickets for the wooden fences we build because of its durability and beautiful appearance. In this blog entry, we will explore the natural characteristics that make Western Red Cedar the ideal choice for your Houston fence as well as everything you need to know about the construction and maintenance of your Western Red Cedar fence.  

Western Red Cedar is the Ideal Wood for Texas Fences
Western Red Cedar is Extraordinarily Durable in Humid Climates

When it comes to Texas -especially Houston- you want a wooden fence that will last in a warm, humid climate. If your fence is built with a type of wood that is not well-suited for humidity, it will quickly begin to rot, leaving you with an unsightly decaying fence you'll have to replace within a few years. The two main types of wood used as pickets for residential wood fences are Treated Pine and Western Red Cedar.
Treated Pine has a tendency to warp and rot when confronted with air moisture while Western Red Cedar absorbs and discharges moisture to attain equilibrium with the surrounding atmosphere. And compared to other types of coniferous woods, Western Red Cedar has a very low rate of shrinkage. Western Red Cedar's ability to absorb and expel moisture without cracking or rotting is referred to as Dimensional Stability, and it's one of the main reasons fences built from Western Red Cedar will last for 10 to 15 years, even in damp climates.
Natural Oils in Western Red Cedar Keep Insects Away
Along with climate, insects that snack on wood threaten the lifetime of your wooden fence. Wood-beetles, carpenter ants, and termites are common in the south, and they can each do a significant amount of damage to your wooden fence by burrowing holes to lay their eggs, or even wiping out entire fences with their insatiable appetites. Lucky for homeowners that still want the natural beauty of a wooden fence, the same naturally occurring oils that preserve Western Red Cedar from decay also keep insects that devour wood away.
One of the great advantages of Western Red Cedar naturally producing chemicals that termites and other wood-eating insects can't stand is that Red Cedar pickets do not have to be treated with pesticides that alter the color, smell, and overall quality of your Western Red Cedar fence.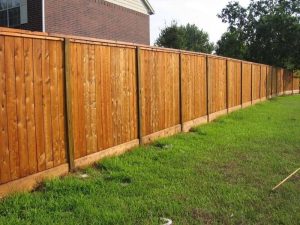 The Natural Beauty of Western Red Cedar Makes for the Perfect Fence
Any homeowner would be hard-put to find a better way to complement their yard than with a Western Red Cedar fence; its earthy red tone is a stark but wonderful contrast against green shrubs, and Western Red Cedar's hearty aroma mixed with the smell of freshly cut grass creates an impeccable scent that embodies a beautiful spring or summer day.

Western Red Cedar's strength, resilience, and admirable looks make it the wood of choice for Texas homeowners.

To learn more about Western Red Cedar fences- things to consider and how they're constructed- read the second part of our Western Red Cedar Fence Buyer's Guide.